In Memory of
Playboy's Midnight Magic D.
Foaled 6-13-99 Died 1-24-03
What a loss! Sired by WGC Southern Playboy and out of our World Champion Model mare LTO Black Magic Woman. We knew we had a winner with Midnight's excellent disposition and natural rhythm and gaits. Unfortunately, he never got to achieve his full potential as he died in February from a sudden and severe case of enteritis. We did breed him lightly in the beginning of his third year and we have a few of his foals on the ground. Check out two of them on our sale page and another at The Stable. We believe he passed on some of his good traits to his foals.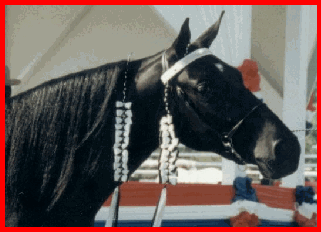 Midnight, you will not be forgotten!
Pictured below are Midnight's foals.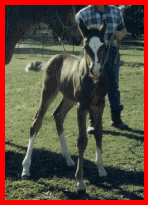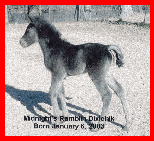 Playboy's Indian Outlaw D. foaled 11-05-02
Midnight's Ramblin Dixichik foaled 1-06-03
Playboy's Barbie Doll D. foaled 4-06-03
Playboy's Blazin Express D. foaled 4-26-02
Playboy's Miss June D. foaled 6-04-03