Danney's No Doubt About It D. "Champ"
gold champagne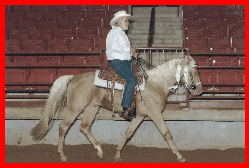 Champ's sire is Danney's Pride of Princess S., currently one of the top champagne producing stallions in the U.S. His grandsire is the great Danney Joe W., World Grand Champion in Model and Performance in 1967. His dam is Traveler's Starlight, a Missouri Traveler granddaughter. Excellent disposition, beautiful unique gold champagne color and bred to perform.
Champ has been sold. He is the first Missouri Foxtrotter in Israel. Congratulations and best wishes to Meir Zuchman on the purchase of this beautiful young stallion.